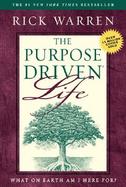 The Purpose Driven Life by Rick Warren is a phenomenon. This book has sold almost 25 million copies and is still picking up steam. That is pretty much unheard of. How can you explain this? Is the popularity to be credited to the books greatness or value? Hardly. Can you simply chalk it up to "a God-thing" and leave it at that? Some will do so and be satisfied with that answer but there's more to it than that.
Tim Challies wrote a very interesting article on the marketing practice that facilitated this incredible pulishing success. I encourage you to read "
Pyromarketing and the Purpose Driven Life
." What in the world is that? He explains:
Pyromarketing is a term developed by Greg Stielstra who was the marketing guru behind The Purpose Driven Life. It is a type of so-called "viral marketing" as it is based on passing information from one person to the next. This is in opposition to marketing that relies on mass media advertising such as television commercials. Think about it, and you'll realize that in all likelihood you never saw a television commercial for The Purpose Driven Life. In fact, it is entirely possible that you never saw any media marketing for it whatsoever. The book did not receive any significant coverage in the press until very recently, long after it had established itself as a major success.
So...who is Greg Stielstra? Here's some info from Challies: Greg Stielstra is the head of the marketing team working within Zondervan, which published the book. He is obviously very good at what he does. He's
quoted
as saying that if he promoted a book about quilting "to one-tenth of one percent of left-handed quilters," he could land the title on the non-fiction bestseller list and prime it for even bigger success. Challies says that he assumes this quote is true because he posted a comment on that blog linked above and did not deny it. Here are words from his bio:
"I've been fortunate to have worked with the biggest names in publishing Philip Yancey, Lee Strobel, Jim Cymbala, Drs. Henry Cloud & John Townsend, Joni Eareckson Tada, Billy Graham, Dan Qualye, Oliver North, Dave Dravecky, Rick Warren, Kurt Warner, Mike Singletary, Dr. C. Everett Koop, Rosa Parks, Dr. Ben Carson, and others. My work for these authors has won many accolades for marketing excellence, and my track record includes 88 best sellers, 20 #1 bestsellers, and eight books that have sold more than a million copies. Five of these books made The New York Times bestsellers list, including a title that reached #1 and remained on the list for over two years."

Dan Edelen
has responded to this by starting a five-part series on "
The Christian and the Business World
."